/

/

Basic Guitar Repair Course
5 Day (30 Hour) – Basic Electric Guitar Repair Course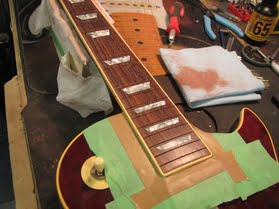 Learn all about the electric guitar and what makes it work. From dialing in the perfect setup, to modifying the electronics to replacing worn out frets and more. Every facet of basic guitar repair is covered in this exclusive course designed for all experience levels. This Course is for the hobbyist, the musician, or the individual interested to pursue guitar repair and/or building as a profession. Basic Theory alongside hands-on experience will enable the student to gain confidence in the procedures of common repairs. Each day will begin with discussion and/or video presentations, following the application of theory to your own instrument(s)/projects. We will cover topics such as: Guitar Maintenance, Precision Guitar Setups, Fretwork, Wiring and Electronic Modifications, & Nut Dressing. This course will give each student approximately 30 hours of training.
---
Day 1: Introduction to Fundamentals/ Setups
Day 2: Electronics
Day 3: Fretwork 1- Refret
Day 4: Fretwork 2 – Fret Levelling
Day 5: Nut Filing & Review
*Available at select educational institutions only.